UNEX 1.9 Inch Diameter Roller Gravity Conveyor - 24 Inch Wide
Supplier: UNEX

FOB: New Jersey Facility
Priced Per Application & Quantity
From Material Flow & Conveyor Systems | 1-800-338-1382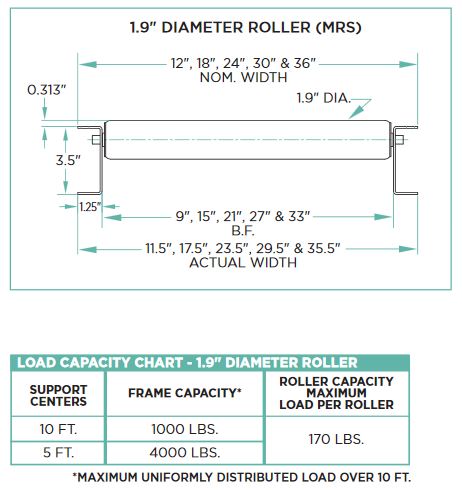 1.9" Diameter Roller Gravity Conveyor is used to convey medium weight packages in permanent installations.
Rollers set high (for rollers set low, add angle guard rail)
Straight Sections
Width: 24" nominal OAW. Actual OA Width is 1/2" less.
Frame: 3-1/2" deep x 1-1/4" flange x 12 gauge galvanized steel channel with bolt in cross braces
Couplings: Optional bolt-in butt couplers
Lengths: 10 ft. and 5 ft. straight sections. Special lengths available.
Rollers: 1.9" diameter x 16 gauge galvanized steel tubing. Oiled ball bearings both ends.
Axles: 7/16" hex steel, spring loaded for easy installation or removal on 3", 4-1/2" or 6" centers.